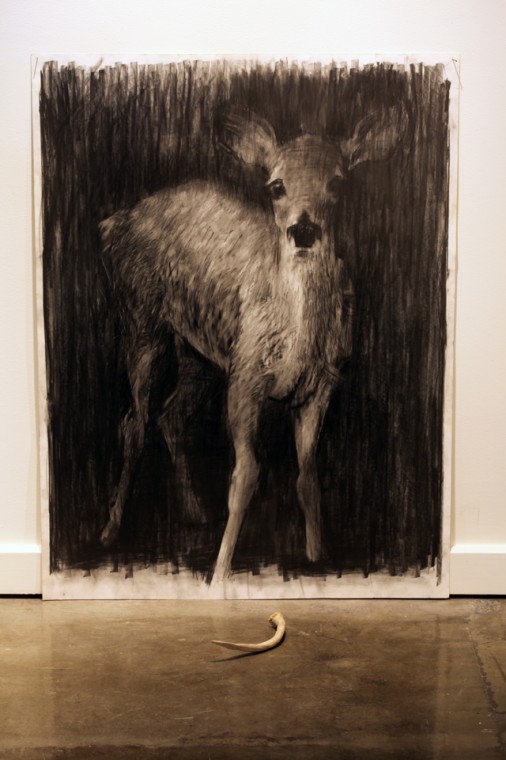 Craig Goodworth, Point Vierge (graphite), 2010

Letter from the Editor
Well, it's been a hell of a year, hasn't it? (I feel a little bewildered like a deer with a lost antler lying on the floor in front of me).  And even while we're at the end of it (I'm writing this on Christmas morning), it still doesn't quite feel like we're really through it yet (or that it's through with us?). What does one care to say about this? For my part I hope you are well, and like many, have the ability to seek consolation in poetry. Many have been publishing books, have been offering readings over Zoom, despite and because of the quarantine, or have been participating in online conferences, all of which as a silver lining seems only to have served to close the geographical gap, in an attempt to counteract imposed isolation, and bring communities of poets and artists together. Some of us have gotten sick and survived Covid-19 and many have lost and are grieving the loss of friends and loved ones.
One of the things poetry can do is collectively process crisis. So, for example my state organization, the Oregon Poetry Association, where it's been my pleasure to serve on the board of directors, sponsored and has edited a Pandemic Anthology of poems, / pãn | dém | ïk/: An Anthology of Pandemic Poems by OPA Members,  written and submitted by its members. All in all I think it's been a big year for poetry, partly due to crisis and processing through it, and partly perhaps because we have had more time to read and write some? I hope that's been true for you. I know some who have merely felt paralyzed. Others have had to adapt to doing their jobs online. For me it's almost as though the virus had no effect, if you were to look at the impact to the day to day in my work environment (I work in a construction and demo debris landfill). While others with more time on their hands, sheltered in place, have used the time to get busy.
My good friend Craig Goodworth, this issue's featured artist, canceled his plans to spend time with family in Europe, left grad school in Indiana because he could just as easily Zoom classes from home in Oregon, and has been writing and putting together a manuscript of poetry, Honey Wine, which I've enjoyed being able to read and comment on. I've also been reading and commenting on a manuscript of another friend and past contributor, David Memmott, as it has morphed (he is a constant reviser) from various titles and groupings and now is titled, Small Matters Mean the World. Two contributors to this issue, have come out with books this year, Oni Buchanan with Time Being, and John Morrison with Monkey Island, and my book, Roadworthy came out in mid-December. After announcing some new books I was aware of, many past contributors wrote to notify me of their book releases this past year. From our editorial board alone, Lynn Otto's book, Real Daughter, was nominated for the 2020 Oregon Book Award, Ed Higgins came out with The Heart's Optic Nerve, and Jared Pearce's book is Down Their Spears. I'd also specifically like to mention a special shout out to John Johnson who contributed an essay to Issue #24, whose translation collaboration of Plagios by Ulalume González de León came out earlier this last year. The problem with lists like this is I will inevitably exclude or fail to mention some, but I mention these to highlight that it's been a surprisingly good year in poetry for many of us.

I'm excited to welcome you to this issue! We're fortunate to be able to feature Dmitry Blizniuk, a poetry powerhouse in his own right, and translator Sergey Gerasimov, who also offers us one of his own poems, along with some new poets in Blizniuk's network of Ukrainian and Russian poets, most of whom are translated by Gerasimov. If you'll recall, we previously featured Dmitry and a group of others of his friends in Issue #22, along with translations by Sergey Gerasimov. Also I'm glad to be able to cross artistic mediums as we are offering a poem by our featured artist from last issue, Laurie Doctor, just was are featuring an artist this issue, Craig Goodworth, who had poems in last issue. I find it fascinating when poets work across artistic mediums like visual art (Craig), photography (Charles Hood) or music (Oni Buchanan). We have new poems by Buchanan, Hood and other returning contributors such as Alan Gold, Debra Kaufman, DS Maolalai, Bryan Merck, JB Mulligan, Dan Overgaard, Allan Peterson, Claire Scott and some interesting work by newcomers like Massimo Fantuzzi from the UK and new contributors from Oregon, including Mary Giudice, John Morrison, and Melody Wilson. I'm particularly proud of this issue as it's a sprawling, unwieldy group of really outstanding work and so many followed through to offer contributor responses on others' work and their own audio. In fact, one of the great pleasures for me this time around was when I gave my usual call for proofing for formatting, typos and oversights as I do a week or two before launch every issue, what happened this time was everybody sent me few corrections, but tons of additional reviews and audio–I think because after they saw folks reviewing them, they decided it was time to pitch in themselves–either that or the deadline finally kicked in? Whatever the case, I can't recall an issue with so much contributor response to other's work. I'm really pleased and think the issue holds together really well, especially paired with Craig's work complementing the poems. It was a lot of work, but I had SO much fun with it!

In the next issue, I'm pleased to announce that Jared Pearce (who serves on our editorial board) will be guest editing Issue #26. I don't know what he has in store for us, but I can't wait to see it and always enjoy handing off the reins to another to broaden our editorial vision and taste and offer others a chance to invite new poets, do the choosing, and expand on what we've done previously.
I hope you enjoy Issue #25! And, may your New Year be happy!