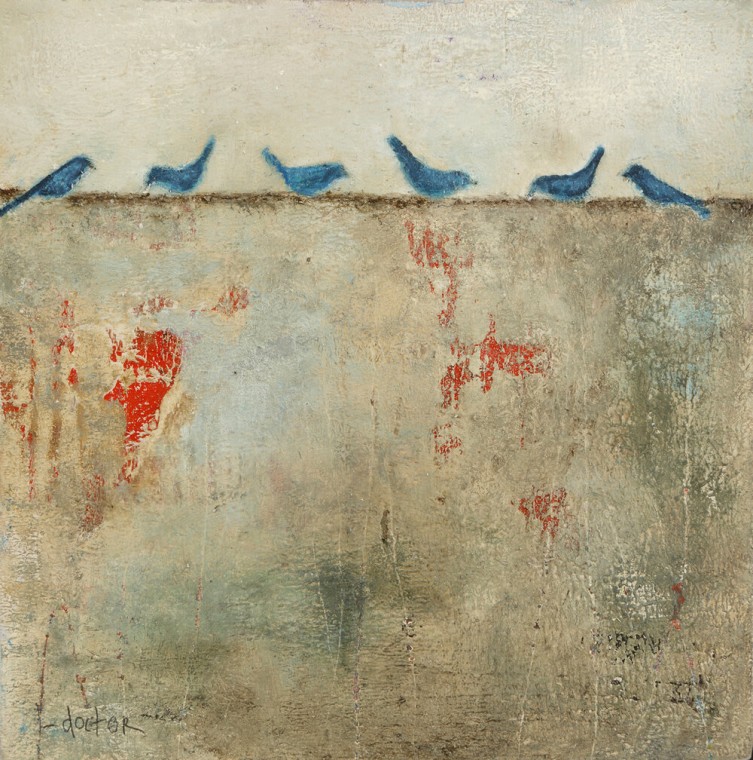 Laurie Doctor, Bluebirds, Oil on Wood, 5″ X 5″
Contributor Notes, Issue #24
Devon Balwit sets her hand to the plough in the Pacific Northwest. Her poems can be found in The Worcester Review, The Cincinnati Review, Tampa Review, Rattle, Apt (long form issue), Tar River Poetry, Sugar House Review, Poetry South, saltfront, and Grist among others. Please visit her website at: https://pelapdx.wixsite.com/devonbalwitpoet.
Joe Bisicchia writes of our shared dynamic. An Honorable Mention recipient for the Fernando Rielo XXXII World Prize for Mystical Poetry, his works have appeared in numerous publications. His website is www.JoeBisicchia.com.
Oni Buchanan is the author of four books of poetry: Time Being (forthcoming from Kuhl House Poets/University of Iowa Press in October 2020), Must a Violence, Spring, and What Animal. She is the founder and director of Ariel Artists, a management company designed for innovative artists who are expanding and re-contextualizing classical music for the 21st century. In 2020, Buchanan launched Ariel AVANT, an open call for the best artistic ideas in the classical music ecosystem, providing an industry-wide platform for concert presenters, thought leaders, and Ariel Artists staff and roster artists to join forces in pushing forward the evolution of classical music as an art form.
Laurie Doctor is a painter, calligrapher, teacher and writer. Find out more about her at her webpage here: https://www.lauriedoctor.com/
John Dorroh facilitates the learning of science with all people who are willing to engage themselves with rocks, wind, both furry and slimy creatures, and water. He hopes that his students walk out of their lab and classroom with a healthy degree of awe and skepticism. His poetry has appeared in about 50-60 journals, including Selcouth Station, Os Pressan, Dime Show Review, Suisun Valley Review, and Blue Moon Literary & Arts Review.
John Garmon's poems and stories have been in Ploughshares, Prairie Schooner, Radius, Florida Review, Triggerfish, Aji, Commonweal, Quartet, The Oregonian, Southern Poetry Review, Paradise Review, and many other magazines. He is a writing assistant at the College of Southern Nevada, Las Vegas.
Craig Goodworth is an Oregon-based artist working in installation and poetry. His practice encompasses drawing, object-making, research, teaching and farm labor. He has received fellowships in art and writing including a Fulbright to the Slovak Republic (2015). Along with exhibiting his artworks nationally and internationally, he's engaged in various collaborations and residencies relating art to science and religion. Goodworth holds Master's Degrees in fine art and sustainable communities. Originally from Arizona, his interests include land, place, mysticism and folk traditions.
John Grey is an Australian poet, US resident. Recently published in That, Dalhousie Review and Qwerty with work upcoming in Blueline, Chronogram and Clade Song.
Beth Gordon is a poet, mother and grandmother currently living in Asheville, NC. Her poems have been nominated for Best of the Net, Pushcart and the Orison Anthology. She is the author of two chapbooks: Morning Walk with Dead Possum, Breakfast and Parallel Universe (Animal Heart Press) and Particularly Dangerous Situation (Clare Songbird Publishing). She is Managing Editor of Feral, Assistant Editor of Animal Heart Press and Poetry Editor of Gone Lawn.
Steve Hatfield is one of the few people left anywhere who has yet to attach himself to a cell phone so that by now it has become a thing for him. He is a retired teacher, a fan of Kansas City sports teams and Liverpool FC in the English Premier League, and only recently has discovered the real fun of listening to Jesse Malin's music and reading the extraordinarily good fiction of Colson Whitehead. He has had a few poems published previously, here and there, including in Triggerfish.
Maura High has published poems in The Southern Review, New England Review, and Tar River Quarterly, and her chapbook, The Garden of Persuasions, won the 2013 Jacar Press chapbook award. She is Welsh by birth and emigrated to America as an adult, where, after a period as a teacher she settled into editing as a career.
Dennis Hinrichsen recently won the 2020 Grid Poetry Prize for his collection This Is Where I Live I Have Nowhere Else To Go which will appear in the fall. His most recent work is [q / lear], a chapbook from Green Linden Press, and Skin Music, winner of the 2014 Michael Waters Poetry Prize from Southern Indiana Review Press. From May 2017 – April 2019, he served as the first Poet Laureate of the Greater Lansing [MI] area.
Charles Hood's fiction, nonfiction, and poetry have appeared in journals including New England Review, Santa Monica Review, Chautauqua, and Catamaran. An avid outdoorsman, he has seen over 5,000 species of wild bird, 600 species of mammal, has twice visited Antarctica, and has survived being lost in a Tibetan whiteout.
John Johnson is a co-translator, with Terry Ehret and Nancy J. Morales, of Ulalume González de León's PLAGIOS/PLAGIARISMS, VOLUME ONE (Sixteen Rivers Press, 2020). John Johnson's poetry has appeared in Boxcar Poetry Review, Clade Song, Triggerfish Critical Review, and Web Conjunctions. He is a long-time student of the Spanish language and has studied letterpress printing with Iota Press of Sebastopol, producing chapbooks and bilingual broadsides.
Paul Jones has published poetry in many journals, including Poetry, Georgia Review, Southern Review, and North Carolina Literary Review, but also in cookbooks, travel anthologies, in a collection about passion (What Matters?), in a collection about love (…and love…), and in The Best American Erotic Poems: 1800 – Present (from Scribner). Recently, he was nominated for two Pushcart Prizes and two Best of the Web Award. His chapbook, What the Welsh and Chinese Have in Common, was a North Carolina Writers' Network award winner.
Richard Krause has had two collections of fiction published titled Studies in Insignificance (Livingston Press, 2003) and The Horror of the Ordinary (Unsolicited Press, 2019). A third collection, 'Crawl Space' & Other Stories of Limited Maneuverability, will be published by Unsolicited press in 2021. He also has had two collections of epigrams published, Optical Biases (EyeCorner Press in Denmark, 2012) and Eye Exams (Propertius Press, 2019). Seventy of his epigrams have been translated into Italian at https://aforisticamente.wordpress.com/tag/richard-krause/. His prose poems have recently appeared in The Courtship of Winds, Offcourse, Poesis, Shot Glass Journal, and one is upcoming in Menacing Hedge. Krause lived for nine years in Japan and drove a taxi for five years in NYC. He currently lives in Kentucky where he is retired from teaching at a community college.
Joseph Mills is a faculty member at the University of North Carolina School of the Arts. He has published six collections of poetry, most recently Exit, pursued by a bear which consists of poems triggered by stage directions in Shakespeare. His book This Miraculous Turning was awarded the North Carolina Roanoke-Chowan Award for Poetry for its exploration of race and family. In 2019 he published a debut work of fiction, Bleachers: 54 linked fictions which takes place at a youth soccer game.
Fred Pelka is a 2004 Guggenheim Fellow. His non-fiction has appeared in The Boston Globe, the Christian Science Monitor, The Disability Edge, the Humanist. Poets & Writers and elsewhere. He is the author of The ABC-CLIO Companion to the Disability Rights Movement (ABC-CLIO, 1997), The Civil War Letters of Charles F. Johnson, Invalid Corps (University of Massachusetts Press, 2004), What We Have Done: An Oral History of the Disability Rights Movement (University of Massachusetts Press, 2012), and A Different Blaze (poetry), (Hedgerow Books, 2014).
Simon Perchik is an attorney whose poems have appeared in Partisan Review, The New Yorker, The Nation and elsewhere. His book of poems, Almost Rain, was published in 2014 by River Otter Press. Find his book D Poems available for electronic download from Triggerfish's own Penny University Press. Visit his website at www.simonperchik.com.
Claire Scott is an award winning poet who has received multiple Pushcart Prize nominations. Her work has been accepted by the Atlanta Review, Bellevue Literary Review, New Ohio Review, Enizagam and Healing Muse among others. Claire is the author of Waiting to be Called and Until I Couldn't. She is the co-author of Unfolding in Light: A Sisters' Journey in Photography and Poetry.
Bobbi Sinha-Morey's poetry has appeared in a wide variety of places such as Plainsongs, Pirene's Fountain, The Wayfarer, Helix Magazine, Miller's Pond, The Tau, Vita Brevis, Cascadia Rising Review, Old Red Kimono, and Woods Reader. Her books of poetry are available at Amazon.com and her work has been nominated for Best of the Net in 2015 and the Best of the Net 2018 Anthology Awards hosted by Sundress Publications. Her website can be located at http://bobbisinhamorey.wordpress.com.
Louis Zieja (he/him) is a cinematographer, collage artist and writer originally from Philadelphia. His poetry has been published in the Ghost City Review and is upcoming in the Neologism Poetry Journal and Rogue Agent. His comic book series The Subliminals, a collaboration with artist Anton Blake, will be published in late 2020.