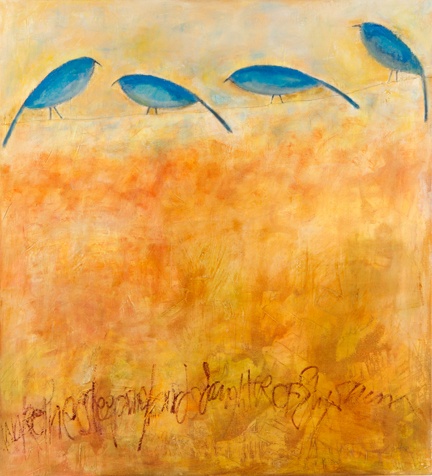 Laurie Doctor, Wake the Sleeping Birds,
Oil on Canvas, 36″ x 30"

A Tiny Pale Star
On a hot July morning, just
before dawn, I woke to sounds
of the dying, and it must've
been four days since I'd been
here. Men, women and children
in cots all around me, a lamp
by my side about to die out,
a nurse by my bed, a blue veil
over her face but I could not
see her golden eyes, and tiny
pale star pinned to her dress
as if she were an angel of mercy
easing my pain til my final rest;
a contagious disease running
rampant, and inside I was
trembling, a heaviness as if
straw had been stuffed inside
my head and my chest, only
a bare passageway to let in air.
Darkness sealed me away,
the very last thoughts I had
watching my younger brother
in a stretcher being carried
who I couldn't save, a secret
that burned a hole in my heart,
and I pray he made it to heaven
before me.
_______________________
Bobbi Sinha-Morey