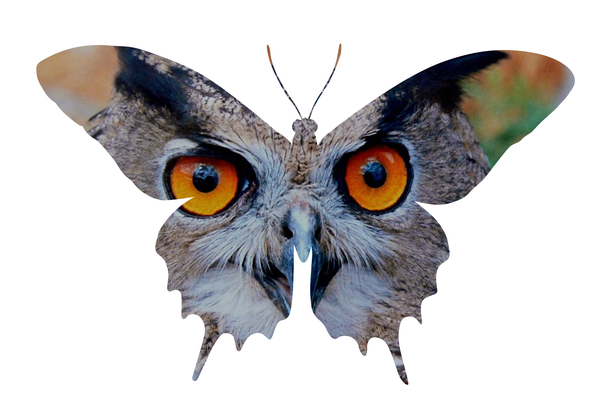 Dale Champlin, Owl Eyes, Collage, 2021

***
(original in Russian)
– Ярик, – кричит детвора под балконом, –
Выходи, Ярик.
Взгляд его васильков,
Кровав подбой одеяний,
В руках его автомат, детский.
– Как настоящий, – говорит Ярик,
Швыркает соплями
И на меня автомат направляет,
И возглавляет колонну римлян,
Следующих на нерест.
Ярик стреляет в любую нехристь,
В любую нечисть.
Эрих Мария Ремарк, Рильке Райнер Мария
Прячутся под лавочку возле дома,
Дрожат,
Превращаясь в ежат
Противотанковых.
Ярик идёт в атаку
Ярик становится танком,
Комфортабельным, благоустроенным.
На башне надпись "за родину".
Дуло направлено на меня,
Взгляд его васильков,
Глаз, голубой, небесно-голубой
Сейчас лопнет,
Обрызгает меня с головы до ног;
Ярик, голубоглазый, бронированный
Направляет на меня автомат.
На башне надпись "за родину".
В университете города Кёнигсберга
Идёт лекция профессора Канта.
Сидя на лавочке,
Разглядывая наркоманов и защеканок,
Целующихся друзей в розовых штанах
И жёлтых рубашках,
Вижу отдельно стоящего Ярика.
Ярик направляет на меня автомат,
Почти настоящий,
Будто бы я наркоманка и защеканка,
Будто бы получил приказ,
Заказ
На наркоманов и защеканок,
Будто бы не было никогда никакого Канта.
Я становлюсь Антанта.
Ярик направляет на меня автомат и смеётся.
Встаю с лавочки, говорю –
Ярик, не заслоняй солнце.
Ярик, солнце – оно как мячик,
Только он настоящий,
Совсем настоящий.
Бабушка Ярика на пятом этаже
Выпекает вафли.
Бабушка кричит:
– Ярик, иди есть вафли.
Небесно-голубые глаза чисты
Небесно-голубые глаза чисты.
Ярик взлетает на пятый, ест вафли.
На нём форма люфтваффе

***
(Translated from Russian by Sergey Gerasimov)
"Yarik, come out!" yell out kids under the balcony,
"Yarik, come out to play!"
His eyes are cornflower blue;
he's in a white cloak with a blood-red lining;
he's holding a toy machine gun.
"Looks like real!" says Yarik about it.
He swallows his snots,
pointing the machine-gun at me.
He's the first in the column of Romans,
he shoots at any infidel,
at any scum of the earth.
Erich Maria Remarque and Rainer Maria Rilke
crawl under the bench to hide.
They tremble,
turning into small
Chez hedgehogs.
Yarik attacks them;
Yarik turns into a tank,
a comfortable, well-equipped one,
with a patriotic slogan on the turret.
Its cannon is pointed at me.
His eyes are cornflower-blue;
so blue that they are about to burst
and sprinkle me from head to toe.
Yarik, blue-eyed, armored,
points his machine gun at me;
there's patriotic slogan on the turret.
At the university of Königsberg,
professor Immanuel Kant delivers a lecture.
Sitting on the bench, looking at junkies and cocksuckers,
at kissing friends in pink pants
and yellow shirts,
I see Yarik, standing alone.
Yarik points at me his machine-gun,
which looks almost real,
as if I'm a junkie or a cocksucker,
as if he has an order to finish off
all the junkies and cocksuckers,
as if there is no Immanuel Kant.
Yarik points his machine gun at me and laughs.
I get up from the bench and say,
"Yarik, don't block the sun.
Yarik, the sun looks like a ball,
but it's real,
so very real."
Yarik's granny, on the fourth floor,
is baking waffles.
She shouts, "Yarik, come to eat waffles."
The sky-blue eyes are clear,
The sky-blue eyes so are clear.
Yarik runs up to the fourth floor.
He eats waffles,
wearing the Luftwaffe uniform.
__________________________
Olga Gulyaeva
Review by Brian J Koester
           The most striking feature of this poem is Yarik's blue eyes. Gulyaeva makes them an arresting and abiding image. They show up at the beginning, just before the toy machine gun, and in the second stanza just before Yarik aims his cannon. Again they appear in the fourth stanza, just before attention is drawn to Yarik's Luftwaffe uniform.

           In the first two stanzas the eyes are cornflower blue. In the last they are sky blue. The colors seem synonymous, as in the German song Kornblumenblau. The blue eye image is omitted in the third stanza, and even though as far as I can tell the original poem is in free verse, the four stanzas together follow the form of a folksong's verse: AABA. Gulyaeva fleshes out this skeleton with themes of purity, innocence, ignorance and violence.

            In the opening Yarik is invoked. The color of his eyes can symbolize purity; European paintings of Mary, mother of Jesus, traditionally show her wearing blue. Yarik also wears a white cloak, a plainer symbol of purity, and it has a blood-red lining. I see the innocence we all begin in, and the violence that is always inside us.

            The next stanza also features purity and innocence. Two twentieth century literary figures appear, both of whom used "Maria" as their middle name when they were writing. According to tradition there was never a purer human being than Mary, and a lot of people believe she never did anything wrong in her life. Remarque and Rilke hide and tremble. They turn into Czech hedgehogs, which are antitank devices that can be made with Iron Age technology. And Yarik turns into a tank and attacks. The image of the blue eyes comes back.

            The third stanza the B section, the contrasting part, is concerned with impurity. Yarik wants to shoot any infidels or scum of the earth. Kant is lecturing at the University of Königsberg. This central figure of the Enlightenment, influential to this day, is sharing his wisdom with an audience of junkies and cocksuckers. It would be hard to find people further from traditional purity. Yet they are there to learn things that sustain our civilization, and it is Yarik who is only interested in obliterating these civilized beings. He blocks the sun, our essential light. The speaker tells Yarik the sun is very real, not just a toy, but Yarik is concerned with how real his toy machine gun looks and with becoming the closest thing he can to a real tank.

            The fourth stanza focuses back on purity and innocence. Yarik's granny feeds him waffles. The image of the blue eyes comes back, this time contrasted with his Luftwaffe uniform, and life is sustained for now.

            I am delighted to see another translation by Sergey Gerasimov. I have been appreciating his translations of Dmitry Blizniuk. Somehow he enables the poetry to blossom in the alien environment of English.
Review by Jared Pearce
Perhaps we all knew that one kid in the neighborhood who, when it came to war games, was a little over the top; in my neighborhood there were several.  And while those children become easy targets for literary pacifists, I like how this poem, at the end, serves up waffles: we're going to need some kind of comfort if we're going to be patriotic.  Right now, in the United States—a country that for the first time has been included on a list of eroding democracies—it seems that those crazy-eyed kids are running the streets, threatening me with no job, no travel, no grocery unless I let them shoot me.  Pop pop—we should not be surprised the nation's turned into monkeys and weasels, all seeking a comfort against the crook.