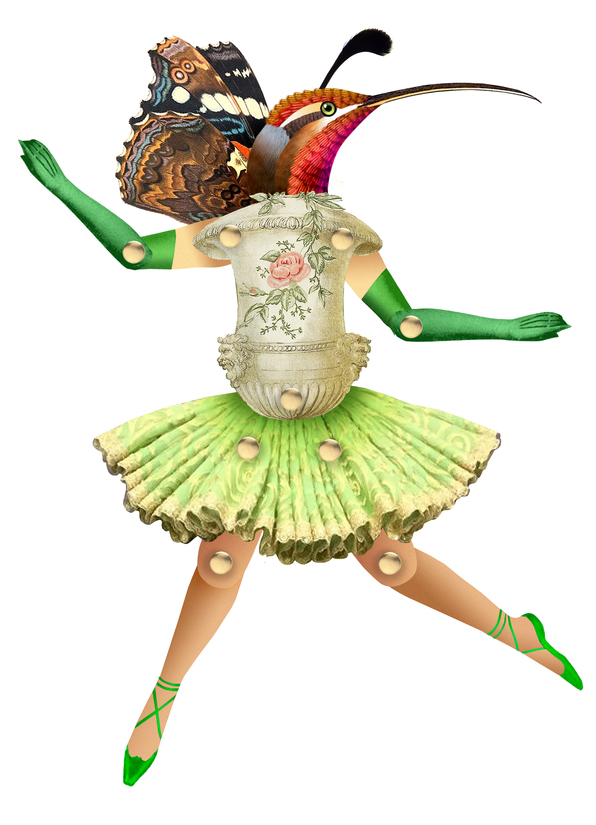 Dale Champlin, Bird Paper Doll 7, Collage, 2021

SYNDROME
First I knot & drop my swing from the phantom
limb & mount & pump, pump higher & pump
over the top & over again because gravity,
mark my word, is a property of the grave.
A crescent moon rocks & trickles along
piping perfect notes down to the lake's
ripple wraiths rising as if to evaporate.
Four phantoms perch on their limb.
It has fallen asleep. They pass
a popcorn back & forth among them & from realm
to realm. They prickle & fidget a bit. They blend.
Never frequently enough, a gifted amateur
takes a day off to set up easel & oils. Sky starts, horizontal
shades & gradations; next a few clouds to coalesce & disperse.
The clouds' signs paraphrase "wet paint" in passing
(meaninglessly to Skeezix the shelter dog– today's first admission–
whose amputated woman, confused at home in a leafy dream,
stirs both her stumps, their hundred and twenty rings).
_______________________
Martha Zweig