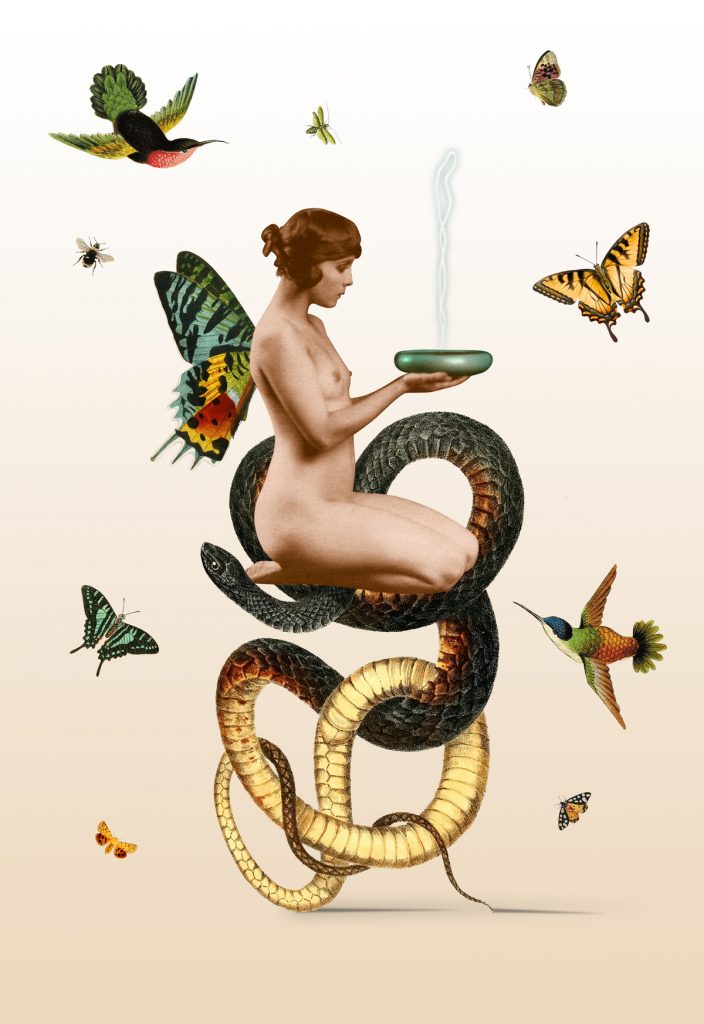 Dale Champlin, Exquisite Corpse 56, Collage, 2021

MUERTOS BREVES (DEATH BRIEFS)
(translated by Terry Ehret, John Johnson, Nancy J. Morales, from subsection, Muertos [1970-1971])
1
Hombre de los días contados:
la cuenta se acabó
                              se acabó el cuento
1
Man of numbered days:
account closed
                        story over
2
Aquí descansa uno
que no pudo insistir
2
Here lies one
who couldn't take a stand
3
Qué ser de gran formato
En su última edición
solemne 
              clásico
3
What will the headlines be
In your final edition
solemn
           classic
4
Éste sí perdió la costumbre
4
This one sure kicked the habit
5
Es tu primera muerte
y qué perfecta
Se nota que estudiaste para muerto
5
It's your first death
and how perfect!
It's clear you studied
6 (poeta muerto)
Fue perdiendo palabras
hasta quedar en blanco
y regresó al silencio
6 (dead poet)
He was losing words
until he went blank
and returned to silence
7
Lo hace
            creo 
                    por delicadeza:
se parece a sí mismo y casi nos sonríe
allí
      tán cerca 
         —pero ya en lo otro
7
He does it
                 I believe
                                out of delicacy
he looks like himself and almost smiles at us
there
        so close
                      —but already in the other world
8
Allí
      donde estabas
crece un pensamiento rabioso
Allí
      donde estabas
la luz sin piel me saca la lengua
8
There
         where you were
grows an angry thought
There
         where you were
light without skin sticks its tongue out at me
9
Sólo perdí de ti
lo que no imaginaba:
lo que eras
9
I lost of you only
what I didn't imagine:
what you were
10 (según Montaigne)
Pensabas no llegar
adonde ibas sin cesar?
10 (after Montaigne)
Did you think you'd never arrive
where you've always been going?
11 (según Rilke)
A un muerto hay que crearlo
en apoyo de él ya no hay más pruebas
11 (after Rilke)
The dead have to be created
there's no evidence left to support them
12 (según Apollinaire)
Los muertos se ríen de sus sombras
Dicen: te esperaré toda la vida
12 (after Apollinaire)
The dead laugh at their shadows
They say: I will wait for you all my life
13 (según Cleopatra y W. S.)
El golpe de la muerte
es como el pellizco de un amante
que hiere y se desea
13 (after Cleopatra and W.S.)
The stroke of death
is like a lover's pinch
which hurts and is desired
14 (según Villon)
Estremece la muerte y pone pálido
y tuerce la nariz    tiende la venas
infla el cuello    la carne reblandece
nervios estira    rompe coyunturas
Cuerpo de la mujer    que tierno eres
pulido y suave cuerpo    tán precioso:
has de esperar también esos tormentos
o vivo ascenderás hasta los cielos?
14 (after Villon)
Death makes a man shudder and turn pale
bends his nose    stretches his veins                                                                 
swells his neck    softens his flesh 
strains his nerves    breaks his joints
Woman's body    how tender you are
polished, smooth body    so precious:
do these same torments await you
or will you ascend to heaven still living?
___________________________________
Ulalume González de León