Interview conducted by Dave Mehler for TCR
TCR: It seems to me that you are one of those people who has always had an artistic and creative impulse, and lives and breathes creativity through artistic expression— "Decorating" and enhancing your mom's expensive ebony desk by scratching lines into it with a needle. You've lived and obtained graduate degrees in a variety of places around the country, been married to another artist, incorporated life as an artist into work and raising a family, and done graphic design and started your own design firm. Your life seems centered and driven around art as a visual artist, poet and vocationally as a designer and entrepreneur. Can you tell us a little about this, and what it's been like, and recount for us some of your successes and failures, joy and frustrations?
DC: My poems are love letters to my younger self. As a child I was left to my own devices more than children are these days. I was a shy recluse, more in tune with characters in books than with other children my own age.
I would call myself a feminist poet. Although I've written many autobiographical, and even a few "confessional" poems, when it comes to submitting them a wave of self-consciousness washes over me. Although one, "Eulogy for My Father," was recently published by Timberline Review and, surprisingly, was nominated for a Pushcart Prize.
TCR: I'm interested in dual artists working in more than one medium and the crossover and pollination of one to the other. You said in an artist statement, "Today collage informs my work in both art and poetry. The juxtaposition of color and imagery are much the same in both mediums." I would not have characterized your poetry as collage. What I have noticed in your work is that you work quite a bit with persona and narrative—maybe theme and variation. Where do you see the crossover in the mediums and where or how is the collage peeking through in your poetry?
DC: Yes, many of my poems are narrative persona poems. The protagonists in my poems come to me full-blown. Their dramas are the same as every woman in America's. I become intrigued with how they interact with other characters and the environment they are "born" into.
As far as back and forth between poetry and art goes, one of my recent collages was of Medusa—that was two months ago—since then, I've written 62 Medusa poems. In that instance the art came first.
Dale Champlin, Broadsides, 2016, Photograph by Maggie Chula

TCR: What can poetry do that collage or visual art can't? Or perhaps if you like this better, what does collage do that poetry can't? Or is creativity creativity and art and poetry just two slightly different expressions of the same thing?
DC: You nailed it! Creativity is creativity.
TCR: Have you ever experimented with ugly?
DC: No!
Dale Champlin, Garden Botanica Illustration, 1991
Dale Champlin, Self Portrait as Mata Hari, Pastel, 1969
TCR: Before we worked together on the board of the OPA, we met at a poetry critique session called Ars Poetica that met monthly in Portland at a couple's house (hosted by Bruce Parker and Diane Corson they nicknamed Salon Argyle) and was led by John Miller. I got the feeling that before I showed up, this group had been meeting a good long while. How important is workshopping and critique to your practice, and in what ways?
DC: I am active in 5 critique groups, and am excited as much to hear other poets' work as to have my own critiqued. While the pandemic has halted some groups, a few remain on Zoom. Phil and Melody Wilson, Suzy Harris, Vivienne Popperl, Sherri Levine, Ann Farley, Kris Demein, Joan Maiers, Leah Stenson, Stella Guillory, Diane Corson, Norma Heyser, Carol Boutard, Ellen Hansen, Ron Jeidy, Jim Johnson, Jimbo Merrill, Francis Opila, Jenn Frykman, Brittany Hammond, Jade McCutcheon, Jackie McManus, and many more poets share my headspace.
More often than not, I appreciate other poets' criticism, but don't incorporate it into my poetry unless I find it overwhelmingly prescient.  
Participating in workshops is fuel for poetry. Many of my mentors have become friends, especially Penelope Scambly Schott. Workshops do more than teach specific skills, they plug you into a network of accomplished poets. The same can be said for working on the OPA board and submitting poetry to various publications. I feel a connection to quite a few editors, Rachel Barton, Sandy Kleven, Michael Burwell, and Genna Rivieccio to name several.
As an OPA board member and editor of OPA Verseweavers I have become close to other poets around the state and country through their commitment and the poetry they write.
TCR: I was startled to learn in conversation recently that you'd only been writing poetry in earnest for about five years? In reviewing your recent submission and publishing a portion of it in this issue, and reading your book, The Barbie Diaries, I'm surprised your apprenticeship has been so brief, and that you've come so far with poetry so fast? Would you account for this as already being an accomplished artist and just transferring what you'd already learned in that medium to a new one, or is it having a rich creative community of other poets around you to workshop that sped the process up? Other contributing factors? What do you think?
DC: My husband wonders when we'll open a library, there are so many poetry books that I've purchased: Li-Young Lee, Joy Harjo, Matthew and Michael Dickman, Sharon Olds, Ross Gay, Gerard Hopkins, Diane Seuss, Erin Hollowell, Emily Skaja, Max Ritvo, and Tanya Grae. I have 22 of the comprehensive Everyman's Pocket Poetry series.
I look forward to reading poetry online and subscribe to Poetry Foundation—both online and in print—Poem-a-Day, and Rattle. Every day I read the poems and follow wherever they lead! Whenever I become obsessive, I purchase a poet's biography. Frank O'Hara is my all-time favorite.
TCR: What are your obsessions artistically or thematically? How do you think your art is helping you to work through and express them? In other words, what I'm aware of is that you make these beautiful visual collages, write books of poems imagining what Barbie would say if she kept a journal, imagining the persona and speaking for a cowgirl, and doing the same with a female sex worker and android?
DC: As soon as I finish a collection, I worry! What will I write about now? But within a few days something or other piques my interest.
TCR: I noticed in your artist statement as well that your mother was an artist and your father was a minister. What was this like growing up? I guess I'm wondering if that combination of two different kinds of temperaments worked well for your parents? Does faith ever surface or enter into your work or did you leave it entirely behind? I notice the sciences seem to be a primary interest.
DC: Every Sunday, my Baptist minister father preached a "children's sermon." I listened carefully. When we got home after church, he would engage me in a philosophical discussion. I don't know how he took my opinions, but I recall giving him a lot of pushback. By the time I was seven I had become an agnostic.
My mother, who's still alive at age 95, has been a dancer, cheerleader, artist, musician, art teacher, and homemaker. From a very early age, she encouraged my creativity by providing me with a variety of art supplies.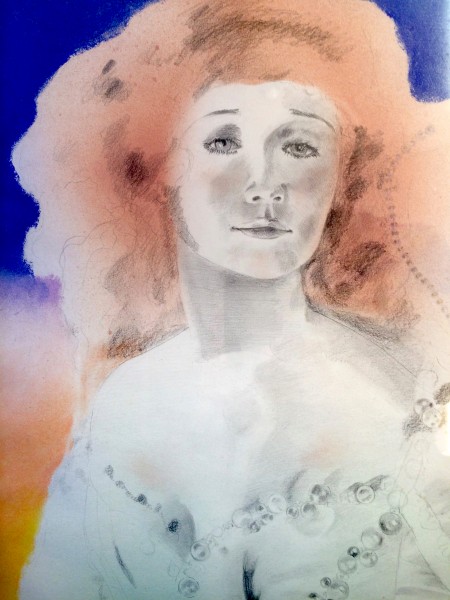 Dale Champlin, Self-Portrait as Red-Headed Actress, Pastel, 1969
Dale Champlin, Self-Portrait, 1990
TCR: In college you tutored students to help support yourself. How did you transition away from drawing to collage? And what about drawing? Do you still sketch, or ever paint?
DC: There is a lot of design and composition involved in collage. I often combine hand drawn silhouettes with various images using antique scrap, vintage photos and pictures taken with my iPhone 12. I love to add reflections, landscape and shadows. The use of color is also instrumental in the success of a collage. I've worked with collage since college. And yes, I continue to draw and sketch every day.
Currently, I've drawn preliminary sketches for a series of my children's stories. The books will be illustrated with watercolor, colored pencil, pastel, and collage.
Dale Champlin, Alice in Wonderland, 2000
TCR: What did each educational institution and geographical location for study offer you in the way of inspiration and learning about art?
DC: Life informs art. As far as poetry is concerned, my writing is inspired by my history of being an avid reader. The germ of an idea is similar to collage—creativity is in a large part subconscious.
I took one semester of poetry my sophomore year of college. And then never wrote poetry for 50 years.
TCR: Have you found working in graphic design and art commercially for an income helps or hinders the creative process for your own work and vision?
DC: My career started when I was an exhibit designer at OMSI. While I worked there I orchestrated exhibits on a variety of topics: The Eye, Birth, Myocardial Infarct, the eruption of Mt. St. Helens and many others. I met with a variety of "clients"—scientists, doctors, and photographers—wrote the copy and designed the 3-dimensional space and the visuals. I was also in charge of the construction and housing of electrical and lighting components.
Later, as the mother of 3 young children, I spent huge chunks of time running my own business, Champlin Design. My design clients included such heavy hitters as adidas, Nike, the Oregon Symphony, Hanna Andersson and Rebok.
After each of my younger children was born, I went back to work when they were each 3 days old. And they came to work with me.
My workweeks averaged about 60 hours. The kids would laugh when I nodded off reading their bedtime stories—then I would get a second wind and pull an all-nighter. While I was working so hard as a designer and illustrator, I had little time or energy to do my own artwork. Running a business combined with a growing family wipes a person out. I found it frustrating at times, I'll admit. My 2 younger children were involved with ballet from an early age. I loved making tutus for my daughter.
Dale Champlin, Joyce, Toga, 1968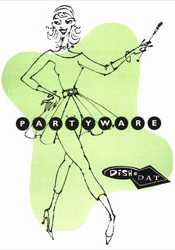 Dale Champlin, Dish n' Dat Ad, 2010
TCR: What do you hope viewing your art does or might do to a viewer?
DC: I don't worry about what a viewer might respond to in my artwork—or my poetry. I create for the pleasure of creating. Some of my fellow poets have objected to the fact that I write in series, but maybe my process evolved from my days as a printmaker (etching, woodcut, etc.) As students we were encouraged to generate portfolios of similar images. Reading novels, think Tana French, Cormac McCarthy and Jo Nesbō, provides me with the same impetus. One of my series of collages numbers 80. When writing a collection, my goal is a hundred poems.

TCR: Do women artists/poets and women in business (owning design firms) have a harder time establishing themselves than men? What has your experience been?
DC: I never had any problem with clients taking me seriously as the director of my own design firm.
I don't know about establishing myself as a poet because I don't consider myself "established" yet. At this point I want to learn as much about poetry as possible. I've only been "at it" for five years. My early poems, my "juvenilia," were written in my late 60s. By now I've written over 6,000 poems. I am always amazed at other poets' expertise, young poets as well as classic poets.
When I first started out, I enjoyed working with form: sonnets, ghazals, sestinas, villanelles, on and on. I enjoy concrete and prose poetry. Sometimes I worry about pulling the same poem-fish from the river, time after time. When writing a collection, I try to not use the same words, metaphors, form etc. over and over. But that's difficult—
Dale Champlin, Night, Collage, 2019
Dale Champlin, Pagoda Umbrellas, Photograph, 2014
TCR: How do you decide to work in language or the visual media? Do you do both consecutively or do you alternate and what drives the creativity and choices in either medium?
DC: I write 3 or 4 poems a day. Collage is a respite from writing poetry and vise versa. Some days, poetry, some days, collage. And I babysit my grandchildren 3 days a week. They keep me entertained and inspired. They're into looking up "the rarest" coin, bird, rock, etc. We have found albino crayfish, lobsters and alligators, and lots and lots of birds. Often these finds work their way into my art. We study the universe and there are always cartoons to watch.
In college and graduate school, photography was my minor. I found portraiture, story telling, and photomontage fascinating.
A list of interests: mythology, art history, astronomy, science, cooking, swimming, nature, birds, dogs and cats, children's books, mystery novels and classics.
My favorite artists are Botticelli, Bronzino, Caravaggio, Magritte, Rousseau, Lartigue, Man Ray, Leonora Carrington, Helleau, and Max Ernst.
Please join me at Sherri Levine's Head for the Hills, Marc Janssen's Salem Poetry Project and returning soon, my own Conversations With Writers.
In conclusion, I would like to mention 3 of my personal favorite poets who died this year. You are in my heart and thoughts: Erik Muller, Christine Colasurdo, and Alex Leavens.
TCR: Dale, thanks for sharing your art and time with Triggerfish! If folks want to find your books they can go to your website at https://www.dalechamplin.com.
Dale Champlin, Self-Portrait, 1967