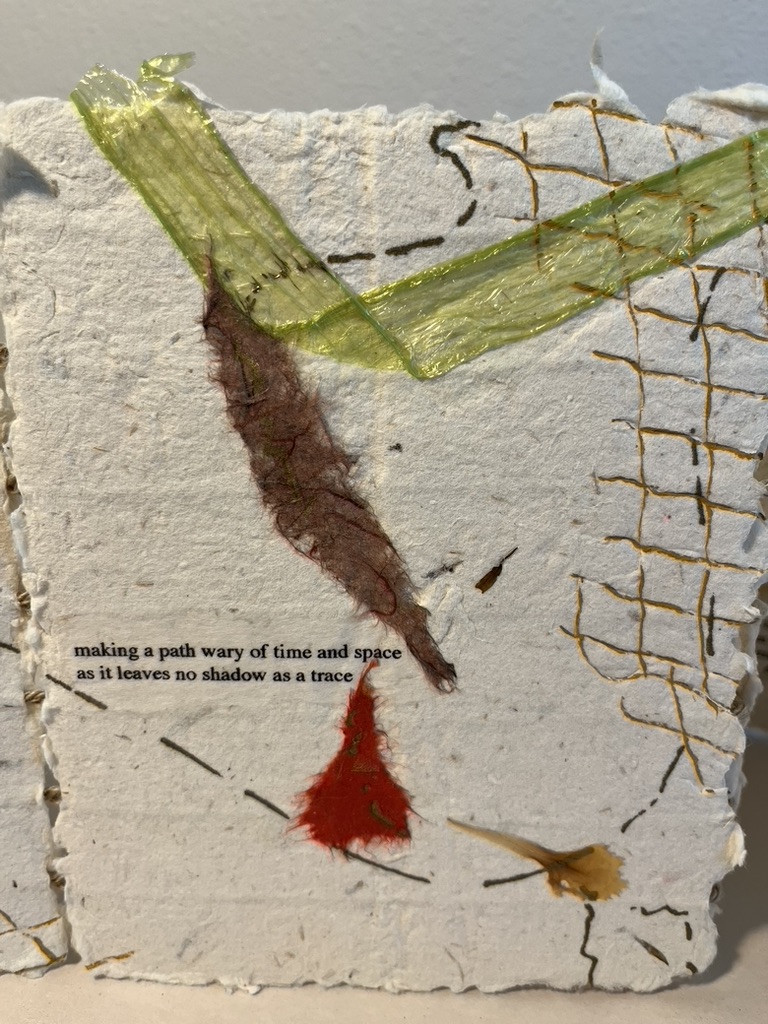 Diane Corson, Handmade Accordion Book (detail)


Irish Grin
The man behind the bar has an Irish grin,
and he welcomes you with a wink;
he serves what you like, from Keystone to gin
as long as it's legal to drink.
Loud music is thumping, so people go dance
in a small room where starry lights whirl;
a drunk near the bar assesses his chance
with the vibrating form of a girl.
The bartender whistles and offers a shot
to a couple whose kisses run deep;
they laugh with a passion, with all that they've got
till they stumble and fall in a heap.
The drunk takes exception, they spilt on his shoe
and he pours his drink onto their head;
the bartender figures a warning won't do,
so he grabs his shillelagh instead.
Meanwhile, dopers are freaking outside
as they study the glow of the moon;
they're hearing what sounds like a wild cop ride
with sirens arriving here soon.
By the time the drunk's hands are cuffed good and tight,
the dopers have long disappeared;
the lovers depart to finish a night
that took a sharp turn toward the weird.
Light finally dims, and the bartender calls:
we're closing folks, there is no doubt;
patrons topple and trip, or walk into walls
while making their tipsy way out.
Now the drunk sits in jail with a welt on his face
and a lone tear blurring his sight;
he'd bet it all for one more chance at that place
and the girl in the blinking white light.
                                      ##
_______________________
Mitchel Montagna
Review by Jared Pearce
It gets me down when journals tell their potential submitters, No rhymes.  I don't see why rhymes should be so narrowly dismissed.  Rhymes, as evidenced in this poem, especially when paired with a romping metrical arrangement, can add a layer of beauty and, perhaps more importantly, fun to a poem.  Here's to fun!