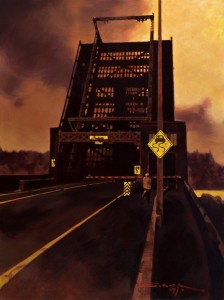 Untitled, Z.Z. Wei
Triptych 2011
Lies which are practically inlets
(I was moving at the speed of time((
the madness if madness is madness
she looks at the camera
it is the is of it, or morphed is
now is languid next is motion
daysweeksmonths of longing
based on magic we've outgrown
[I listen to her face] if untangled
intimacy during disaster is at play))
how rain changes buttons into cloth
'hello, I'm from a dying planet')
in the half-gesture of forgiveness
sculptor of transient things-beings.
Cargo boxes labelled 'unidentifiable refuse' –
sensation mistaken as some logic–tragic
which I hold on to like gatherings –
aloof awareness, of which I am now wary
losing the structures by shifting
that fraction which breathes and is coherent
raw ingredients, my mentor: storms, nightmares,
gulls and tree-birds batting against my windows
besides there are stairs I must be carried up –
like cooking a potato until it's already mashed
I don't imagine freedom as hope but extravagance,
attachment-shorn – abstract memory waste.
How does descent transform into commonality?
Improvisation does not remove distrust.
Immersion absence depravity yelp –
and mother gives him a decreped hand
and all along, like sinew, he's thinking
'I ain't being rabbity at all – stew,
perhaps' and then he falls. Toasted absence.
Thru that hole and without his hand, mother,
what has he done? Feels like depravity,
but luxurious by feat – and without…
Singing to her ghost. He cannot withstand
nor elaborate… He's inured by dross.
As every angel falls into nothing,
'nothing' falls categorically awry
Fear becomes his mischief after a while –
chasings but losings; literally gone.
_________________
William Fairbrother