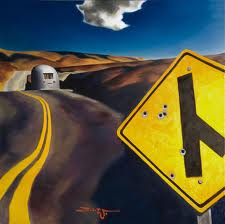 Bullet holes, Z.Z. Wei
Medical History
When I was 47 I was attacked by bears, opening vomits
between my ribs, getting my heart all over it.
When I was twenty I had black fingernail polish appliqued
by a woman who would one day fly an F111 over my grave.
By fifty the veins in my legs were stripped,
one knee socket cleaned of bone…
I have trace elements of various anti-laughters inside of me.
Is that all? Okay. Let's take a look. Cough.
Cough.
Cough again.
Cough.
Okay, bend over…
Yep, he said, it's rotten all right…The prostate, he went on to say, has all kinds of back alleys, safe houses,
crevices and cellars where the spongy birds hide…
I'd read up on this, extensively…
Not much to be done, is there?
Oh, he said, there might be a few things.
He filled out various antidotes…
he advised against nude bathing.
He showed me how to port my hips
and not cinch my pants too tightly.
He suggested a change of underwear.
In a moment of brazenness I said:
Sometimes I fantasize about you
just cutting it out.
Well, he said, laughing,
that might be a bit drastic…
But I saw how he'd like to…
open me, that is, and go in with grafting tools,
drag that rotten oiler out through
a vestibule or portico, dropping the mess
into a can of paint thinner like a black potato.
Do it, I said, opening a beer.
I just might, he said, reaching into his vest pocket
for a shotgun shell.
_____________
Greg Grummer



Review by William Fairbrother
Anti-primitive matter.  I see/hear the performance at the Cabaret Voltaire.  He starts a war in Heaven.  Ideos or Chaos…