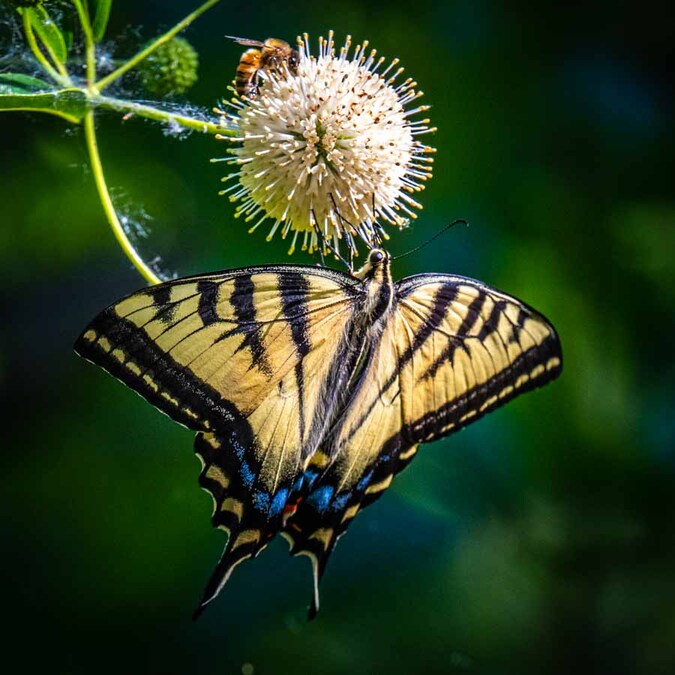 Charles Hood, Swallowtail on Buttonwillow

Dream Grandparents
In my dream, I was throwing the football with Shannon
In the front yard of Harry and Miss Mittie's house
On Boutwell Street, squinting into the sunset. Fall
Time. The mimosa's branches offered no shade.
In a long moment we noticed Mom and Dad sitting
In the living room chatting with our grandparents, their
Happy motions clear through the windows
As though on stage, a continuous performance.
At the same point I (for it was my dream)
Noticed something higher, something that didn't match the
Boutwell Street elevations, something lifted, fitted under the eaves,
As if someone had pumped up a short second floor and filled it:
Horsehair sofa, mahogany sideboard, frilly
Curtains, upright piano. An old woman and her husband
Were cheerfully setting a table. Silverware, vaseline-glass
Plates and matching goblets emerged from a cherry cabinet.
Shannon stood nearby—we marveled, joyful, over that
Half-floor, the gear, the old folks whose
Faces were familiar but past focus. Fired with need to
Find that space of revelation, we were tiptoeing
Toward the side porch on a mission of discretion—
When—the dream ended.
                                       It was not worth our trouble—though later
We took trouble—to look for hidden stairs, breaks of jointure in walls,
Ceilings out of whack. Nothing. Nothing was there.
Afterwards I hoped to realize that attic in my mind—and sure,
Daylight musings have led me often to Boutwell Street.
But daydreams have lower moment than sparks of the cerebral
Chorus. As for those amiable Counterparts, my subconscious has
Burned dry. Sometimes I shake my head in memory of what
Has not yet been, may never be. Never have I chanced to
Stumble into that happy room, where I might greet my dream
Granddopplers, mock-ancestors, amiable travelers
From the bourne of an untraveled land. Were they
Children of my unfinished Psyche?
Perhaps I'd best decide that they were creatures of chance,
Projected motes of a setting sun.
_______________________
Paul Pruitt