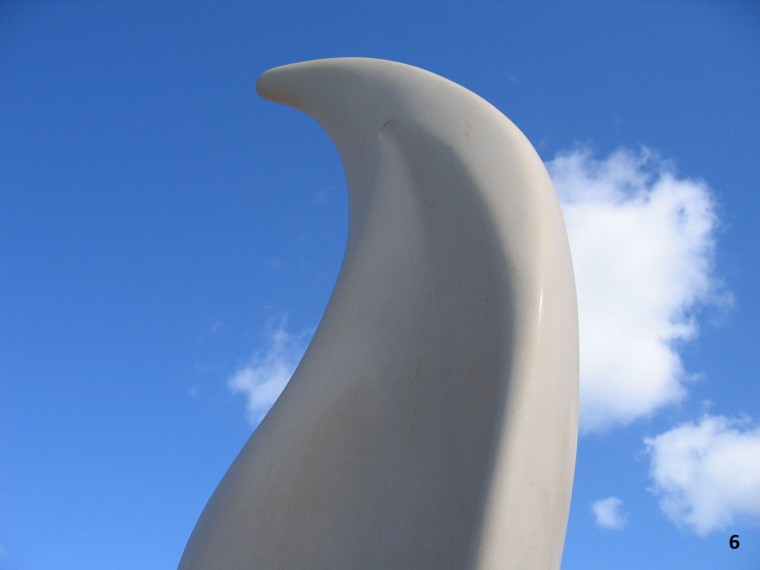 Diapason (detail), from Pythagoras Sings the Blues. Stone. 2m H x .8 m W x .5 m D. Private collection, Perth, Duncan Moon
Pacific Crest Trail
Mystical thread of footprints from Canada
to Mexico—the direction Eric Ryback came,
my high school hero, supposedly the first
to make it all the way. Except he didn't,
having accepted a ride or two on the dusty
maze of logging roads beneath Mt. Shasta.
But he started out bravely enough,
an eighty-pound pack in May, arresting
himself time and again with an ice ax
on those snowy traverses all across
the North Cascades. For a while there
I thought of following in his steps,
but then the peaks began to call,
and the golden trail merely became
something to cross en route to a summit.
Still, whenever I do find myself on the PCT
for a day or so—on Muir Pass in the Sierra,
or Soda Mountain in the Siskiyous—
I feel the pull, the continuity of the thing,
the possibility of putting one scuffed boot
in front of the other. Never mind
that I'm pushing sixty, that my right knee
has decided to ache, that my pack
gets heavier every year. The path unrolls
illimitably in answer to our infinite longing,
every blaze a terrestrial promise, every switch-
back a return to a yet more excellent way.
—Okanogan-Wenatchee National Forest
_______________
Paul Willis

Review by Laurinda Lind
Having vicariously walked this via a time-lapse video and having been astounded by its beauty, I know exactly what the poet is saying about new vistas overcoming old reservations, making us feel like we have that kind of continuity in ourselves. We don't.