Interview with Featured Artist, Gillian Sargeant
Conducted by Dave Mehler

TCR: Can you tell us a little bit about your background in art, and how you ended up choosing oil painting as a mode of artistic expression?  Did someone apprentice you or are you self-taught, and maybe a little bit about your influences?
GS:  I was born in Peebles, Scotland and studied Art and Illustration at Anglia Ruskin University, Cambridge, England in the UK.
I studied fine art, painting, at Coventry University, England, then continued my training in illustration at Anglia Ruskin University, Cambridge, England under the painter Thomas Newbolt, illustrators Jane Human, Allan Drummond. This gave me a love of the narrative interpretation in art. Our class produced some of the finest in childrens book illustrators in the UK. Selina Young, Allison Bartlett and Ailey Busby to name a few. I wasn't fully satisfied or convinced I was an illustrator, always being drawn to life drawing and Atelier classical approach. After having taken a long hiatus to raise children, I recently continued my training in art as an Eastern Orthodox iconographer , and it gave me an interest in the ancient technique of layering translucent color and also depth of meaning and complexity of message they convey. My studies are evolving continually as I try to master blending the ancient iconographic tradition of Byzantine techniques with my figurative work as a painter and seeing where these decades of learning take me. These pieces are the beginning of a new era in my art, and I shall continue to evolve as a painter through studying these ancient techniques and subjects which are inexhaustible inspiration for an artist. My biggest influences are Singer Sargent stylistically, Marc Chagall, Pre-raphaelites for the mythical ethereal, Titian and Reubens for vibrancy in the quality of their oil paints. A lot of the classical techniques that evolved from generation to generation are now lost in this post modern era of art, but I am following closely a new movement of atelier classical figurative and realist painters that are trying to re introduce the classical tradition of mastery in style and technique, Odd Nerdrum being one of the most outspoken in this movement.
Future Study: Summer 2019, training under Vincent Deciderio in Italy.
TCR:  Would you care to comment on the Iconography many of your paintings are depicting?

GS:  In my Icons I am depicting the essence, the soul of a personality after its displacement from life into the afterlife. Having trained under Russian iconographers, in orthodox iconography, have learned the ancient traditions, and beliefs on rendering and use of the icon. A saint is preserved forever in a simplified visual form and the icon is said to be a window into heaven for the worshipper to look 'through'. Inspired by the life and spirit of the person represented in the image to come into the presence of God, to expand the heart to a place of healing and wholeness through worship. I wanted to depict some of our most beloved popular artists who have recently died, as homage to those lives and hope the image would be a window into heaven, and also a remembrance of the beauty and influence they left behind.
TCR:  I notice you are making saints out of provocative pop 'icons,' and perhaps even more surprising is to incorporate iconography out of fictional pop figures (Professors' Snape and Dumbledore, who died as martyrs in their fictional context). Would you care to comment on what you're up to in this regard? The suggestion of these types as saints could act as a finger in the eye of more traditional or pietistic types. Along this line of questioning, what effect do you hope your art has on your viewers?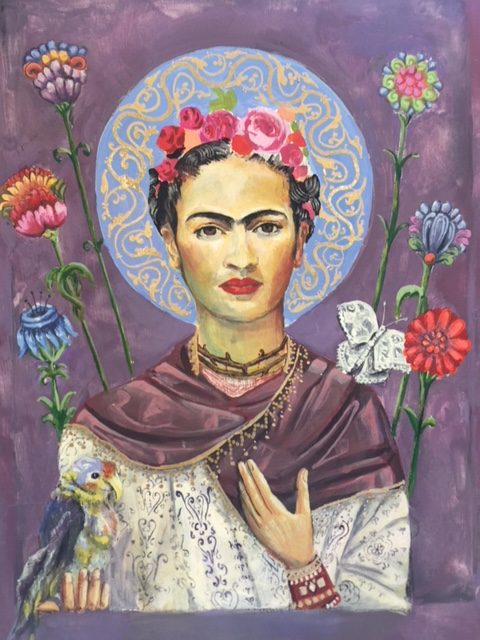 GS:  There's is no more intent in choice of subject than simply honoring the nature of the person remembered, whether fictional or historical. Perhaps we are drawn to the characters which encourage us in this journey of life to press on and do well. We all tend to need a source outside of ourselves from which to derive encouragement to keep moving forward. Perhaps my choice of character tells something of my need to live on the 'edge' !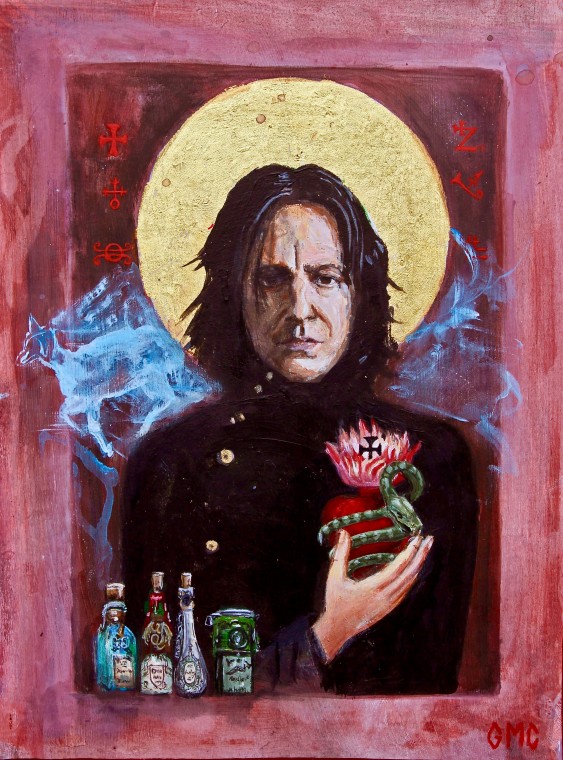 TCR:  Would you care to comment on the interesting painting of your daughter, holding a sword?
GS: Yes, it's titled, The Queen of Swords, a portrait  of my daughter Daisy.  In Unity: she displays here her inner confidence, a oneness with the feminine and inner masculine, animus and anime, a new garnered strength this generation of young women are growing in to, standing up for their rights and embracing their feminine strength. 
The divide: She holds the sword, the male phallus, pointed down towards the ground, in submission to her firm grasp it is not wielded aggressively, the masculine poise, which has plundered mother earth. She represents the mother, the divine feminine, she now holds power in her right hand, in strength and peace. She's clothed in yellow, the masculine color of the sun, unified, yet divided against the violence of the past, the male dominance, no longer submissive or subjugated.
She symbolizes the metamorphosis, emergence from the passive, surrounded by a ring of 12 stars, symbolizing the strength of mother of God, the twelve tribes, the apostles, the twelve signs of the Zodiac. The book of Revelation described Mary, Jesus' mother,  (also representing the divine feminine, mother of all faiths, Mother Earth ) as clothed in the sun and standing on the moon, the feminine symbol, 'mysterium lunae.'
TCR: Some of your most recent paintings are of peonies.  Are you going in a similar direction as Georgia O'Keefe and are you going to do a lot of these, do you think?
GS: Botanicals are the latest subject matter and am enjoying tremendously all the challenges a narrower range of color forces me to have to face.  I am not intentionally drawing attention to the erotic in these botanicals, it's quite an innocent appreciation of this passive beauty that has always intrigued me. I feel so at peace painting my flowers and hope to make this subject my focus for the near future.  My good friend and photographer Mark Kodak shoots most of my flowers for my paintings, we have a collaboration that is just beginning to take shape and I'm excited to see what the future holds here.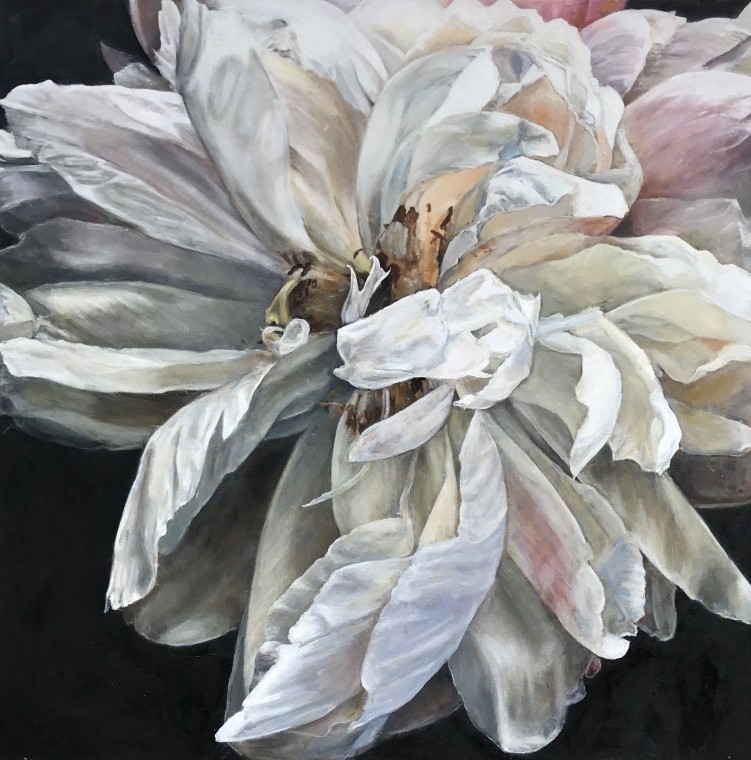 TCR: It's clear there are spiritual themes underlying the subject matter in your paintings. Would you care to elaborate on some of your journey spiritually, and how that ties in with your creativity and ambitions as an artist?
GS: The spiritual nature of a lot of my art is more a reflection of my deep soul need to  identify with my faith in all I do. I live and breathe spirituality and cannot extricate that from any of my work, even my flowers. I see the creator in each petal and when I paint hope I'm drawing myself and the viewer closer to God. My angels I see as invisible protectors and these creatures intrigued me all of my life as I painted mostly angels in college also. Perhaps knowing all we see is only a part of reality and want to bear witness with my art to the unseen also, perhaps also the unappreciated.
TCR:  What's the best advice you've received that's helped you personally as an artist?
GS:  The best advice I think I've received is really to just painting from my heart, not for the audience or purely for money. I am learning to listen to my intuition and not go with the post modern 'trends' often driven by the art critic and art schools where  the pressure is to steer away from the classical traditional approach of honing the skill through rigor and continued hard work, and observation etc and instead tend towards only expression. Odd Nerdrum is my hero on this topic. There seems to be a new movement of realists that are forming and their voice is being heard.
TCR:  What keeps you going?
GS: Love of art, being surprised at my new works, I look at my paintings after 200 or more hours and am surprised that I'm not that bad a painter after all. It's really quite simple, I think we tend to succeed when we do what we love and do what we were made to do. I know it's not always that simple, but I'm flirting with this presumption and it seems to be working for me.
TCR:  If you are interested in contacting Gill, she can be reached at this email address, [email protected], and you can find out more about her artwork here: GillianSargeantArt.