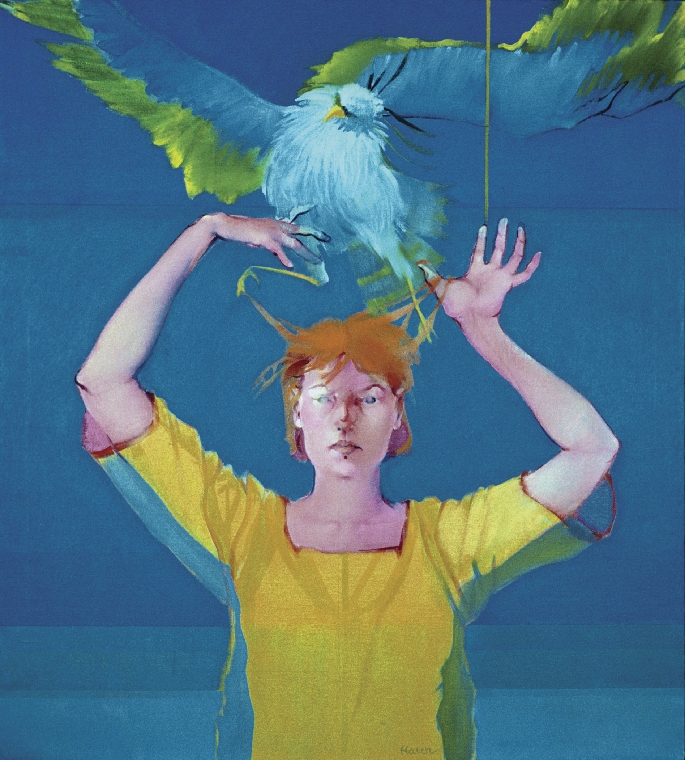 Artist Interview: Mary Hatch
Mary Hatch began her undergraduate training as a fine arts major at Skidmore College in New York State. After moving back to her home state, Michigan, she obtained a B.A. in art education from Western Michigan University, as well as an M.A. in painting, with hours toward an MFA. After teaching for a few years, she returned to her studio in Kalamazoo where she continues to work. Her work is included in over 300 public and private collections in the U.S. and Canada, with an exhibition record of more than thirty one-person shows in as many years. I interviewed Mary via email:
Triggerfish: How did you start making art? What kept/keeps you going? 
MH: I can't remember when I didn't make art. I was always the kid who loved to draw & make things. Making art is a necessity, almost as essential to me as breathing & my life is structured around it. So I guess the answer to this is that making art keeps me going—it's endlessly fascinating.
Triggerfish: Most of your paintings (and all of those featured in this issue) are of people—people in motion, people in some sort of relationship with other people or with their (somewhat strange) surroundings. Could you say some something about your interest? 
MH: My work is about the beautiful social surface of America. Like Tom Wolfe and Robert Altman, I love looking at small sections of our lives. Each painting usually begins with a single figure in a position to inexplicably connect to my inner view. Other figures & the environment arrive gradually as the painting evolves. It's hard to say exactly why I'm so fascinated with the figure but it's truly the only subject that interests me. I remember as a kid taking my first painting class & being aware that an older girl in another part of the room, behind a screen, was painting a model while I was only allowed to paint a still life. Then on to high school, taking a Life Art class I was hooked.
Triggerfish: Poets use lots of poetic elements, but some especially revel in a particular element, such as metaphor or sound or form. Do you have a favorite artistic element? If so, why?
MH: I'm not sure what you mean but my work is definitely full of metaphors—in fact I can hardly find a straight forward presentation of any idea. This is only because my ideas are formed as images with no particular meaning attached—it's only later that I may have a clue about what I'm trying to say & I emphasize the word "may."
Triggerfish: What effect do you hope your art has on viewers?
MH: I hope it opens them to thoughts, memories, ideas or feelings, not mine but theirs.
Triggerfish: What does being creative mean to you?
MH: It basically means to make something new & isn't necessarily specific to artists. It can be, to borrow a cliché, thinking outside the box. Any process that doesn't rely only on what you know or have learned.
Triggerfish: What kind of creative routines or rituals do you have?
MH: Going to my studio in the morning & working all day. Of course life does intrude, but my ideal week would be four clear days of work.
Triggerfish: What's the best advice you've received on working creatively?
MH: When I was in college, we had a visiting artist who recommended going to your studio in the morning & working all day. I remember being shocked that being an artist required the same type of discipline as any other job. But I have since learned that nothing happens if I'm not in my studio working. Just thinking won't do it.